【Check In / Check Out】
- Check in : 15.00-21.00
(If you know you will be late ,please let us know in advance.)

- Check out : 07.00-10.00
(If you would like to check out early (before 7.00AM.),please let us know in advance.)

- Reception closed : 13.00-15.00

- We can keep your baggage at the reception before check in time
   We accept it 7:00 -13:00 (Reception close 13:00 -15.00)
If you would like to leave your luggage at this time(13.00-15.00), please let us know in advance.
- After check out we will keep your baggage 7:00~21:00 on the day your check out.
- We have no curfew but when you go out or come in at midnight , please consider neighbors and other guests.
- Please show us your passport for foreigner guests.

- Please note : this is a quiet residential area and it's not suitable for parties. Please keep QUIET. 
STRICTLY, no visitors, no parties and no drug.
Please do not make any loud noise such as speaking loudly or playing music loudly after 21.00(9PM).
This is to avoid disturbing other guests.
【Payment】
・Payment is Japanese yen (cash) only. Please pay upon check-in.
・Credit cards can not accepted
【Guesthouse Facilities】
- Free fiber optic WIFI in all rooms
- All rooms have LCD TV , Air-conditioner , Heater , Wardrobe , Table , Ionic hair dryer , Mirror.

- All rooms are non-smoking.

We have designated smoking area outside.


- All Rooms in guesthouse do not have private bathrooms and showers
*All bathroom ,shower room and toilets are SHARED by our guests located on 1st floor.(24 hours available)*
1 Bathroom(bathtub + shower)
1 Shower room
2 Toilets
2 Wash basins

- Free bath towel + toothbrush Set 

- Ionic Hair dryer in all rooms


- SHARED refrigerator , Pot , Microwave ,Toaster in common area
- Free Drink (Cold water)
- Hot Japanese tea set
- Tatami OR Bamboo Slipper
- Free umbrella rental


- Air cleaner  * reservation required*
SHARED TOILET
2-shared toilet on 1st floor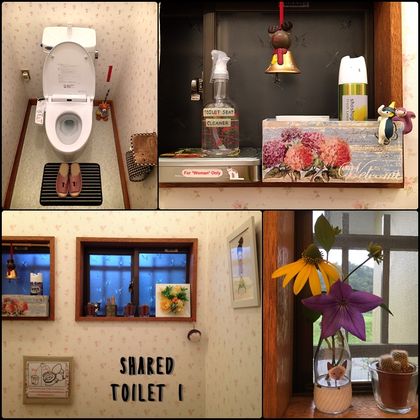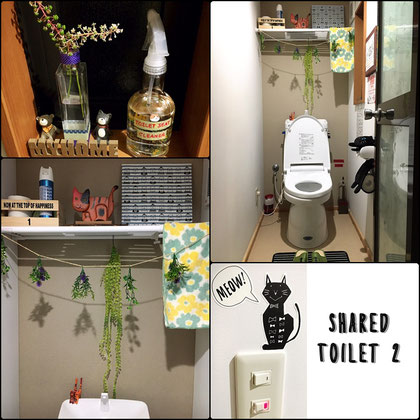 SHARED BATHROOM,SHOWER ROOM
1.) Shared bathroom (bathtub + shower)
 Bathtub : 18.00-23.00

 Shower : 24hrs. available

 Shampoo , Conditioner , Bath soap , Body sponge , Cotton-bud , Face-cotton , Toothbrush set , Bath-towel , Ionic hair dryer , Automatic weighing scale are available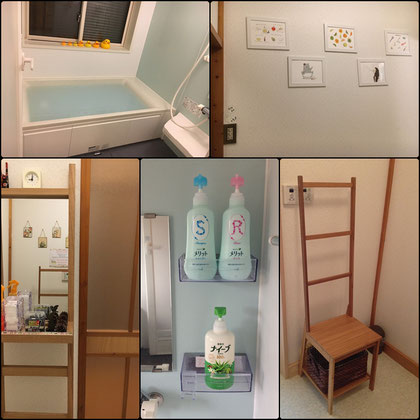 2.) Shower room
 24hrs. available

 Shampoo , Conditioner , Bath soap , Body sponge , Cotton-bud , Face-cotton , Toothbrush set , Bath-towel , Ionic hair dryer ,  are available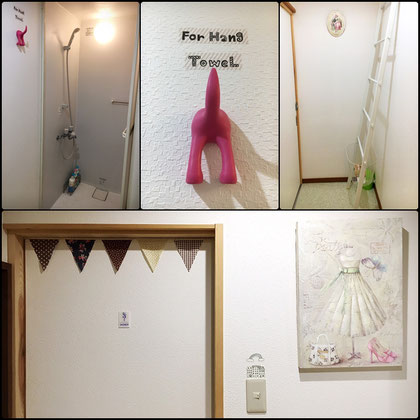 WASH BASIN