【Loft Villa with Garden View and Private Bathroom  】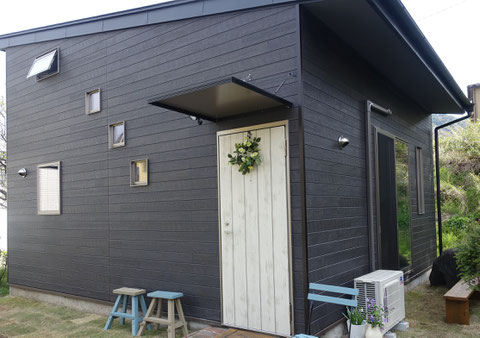 <Please scroll down for details on fees and facilities.>
【Loft VILLA with Garden View and Private Bathroom 】
*Loft Villa is suitable for 2 - 5 persons*
*Loft Villa can accommodate kids all of ages*
(Child Policy : All childrens(up to 2 children/room) under 6 years of age stay FREE of charge when using existing bed.)
2-3 persons  = 20,800Yen~34,000Yen /night
4 persons  = 23,000Yen~34,000Yen /night
5 persons  = 25,000Yen~36,800Yen /night
【Accommodation】
* Ground floor :29 m2
* Loft Space    :11 m2

【Villa Facilities】
- Bathroom (Rain-shower room , Toilet , Wash basin)
- Air Conditioning/Heating , Fan
- Television
- Refrigerator
- Microwave
- Toaster
- Electric kettle
- Dishes
- Dining table
- Hairdryer
- Slippers
- Towels+Toothbrush set
- Linens
- Shampoo,Conditioner,Body Soap,Cotton and Cotton bud
- Hot Japanese-tea set , Coffee
- Free umbrella rental
- FREE WIFI
***NON-Smoking inside***
We have designated smoking area outside.
There is NO kitchen for cooking but you can heat the food by microwave or toaster.
There is NO kitchen No gas stove , IH stove or hot plate for cooking in order to prevent fires.
Barbecue and fire dishes are not allowed, so please confirm your understanding before make a reservation.
Please note : this is a quiet residential area and it's not suitable for parties. Please keep QUIET. STRICTLY, no visitors, no parties and no drug.
Please do not make any loud noise such as speaking loudly or playing music loudly after 21.00(9PM).
This is to avoid disturbing other guests.
The price will be changed if the day before holiday,weekend and so on.
Please confirm before reserving a room.