【Address】
STAY NIKKO GUESTHOUSE
2-360-13 Inarimachi Nikko-shi Tochigi-ken Japan
Postcode : 321-1411
EMAIL : tnk2015@staynikko.com

TEL      : 0288-25-5303
FAX      : 0288-25-5303
【STAY NIKKO GUESTHOUSE MAP】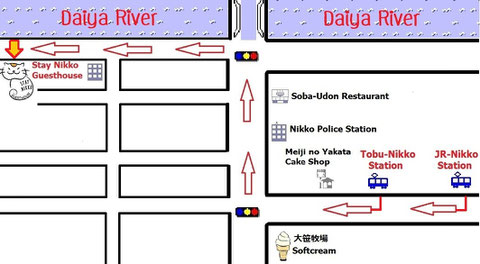 【Access】
From Tobu-Nikko station or JR-Nikko Station to Stay Nikko Guesthouse
1.) If walking out from the station, (Assuming that you're standing in front of the station), then turn right and go straight through the intersection.
2.) From the 1st intersection, then turn right. Then go straight until find Nikko police station on the right, it means you're on the right way.
3.) After that walk through the police station until find the 2nd intersection.

(Note : The 2nd intersection is located before the bridge)
wait until the traffic light in order to turn left to the alley(small street), the alley is beside the river.
4.) After go inside the alley then go straight about 3-5 minutes. the Stay Nikko Guest house will be on the left.
There is a Guest house's label obviously.
(Note : When you go straight will find an outstanding yellow house, next to the yellow house is our Stay Nikko Guest house.)
- - - - - - - - - - - - - - - - - - - - - - - - - - - - - - - - - - - - - - - - - - - -
 *Remark*
***About 650 meters from Tobu-Nikko station (by walking, it takes about10 minutes).***
***About 900 meters from JR-Nikko station (by walking, it takes about 12-15 minutes).***
***About 900 meters from Lion D'or supermarket (by walking, it takes about 15 minutes).***
***About 1,200 meters from Shinkyo bridge (by walking, it takes about 20 minutes).***